Events & Theatre in the Garden
National Trust Opening times at Great Chalfield.
Tuesday 2nd April to Thursday 31st October
, House and gardens open for National Trust on Sunday afternoons, Tuesday, Wednesday, Thursday
Details at www.nationaltrust.org.uk/great-chalfield-manor-and-garden
-o-0-o-
Heroes a comic play translated by Tom Stoppard
A gentle French comedy, given an elegant English gloss by Tom Stoppard, directed by Simon Blacksell .
Heroes is set in August 1959 somewhere deep in France at a home for Veterans of the 1914-18 War. Philippe, Gustav and Henri plan their escape,while they sit out on the garden terrace.
Heroes' London Premiere was in 2005.TomStoppard adapted "Le Vent Des Peupliers" (the Wind in the Poplars) by Gerald Sibleyras and with Richard Griffiths, John Hurt and Ken Stott won the Olivier Award for Best New Comedy in 2006.Simon Blacksell chose Heroes for Frome Festival 2019, and happily returns to Great Chalfield where he directed Hollow Crown, Seven Ages of Man and Midsummer Nights' Dream.
Picnics are welcome from 5pm, please come and enjoy the gardens. The play runs for 90 minutes with no interval.
July 17th & 18th 2019 at 7pm
in the gardens at Great Chalfield Manor SN12 8NH (indoors if wet)
For tickets £10 please call 01225 782239 or email to
chalfield@aol.com ; or patsy@greatchalfield.co.uk
Cheques should be payable to " Friends of Great Chalfield" or if you prefer, send an internet payment to our "Friends of Great Chalfield" account no 61465686 at HSBC, 46 Fore Street, TROWBRIDGE BA14 8EL sort code 40-13-17 clearly identified as from yourselves.
Guide Dogs' only please - for all events.
-o-0-o-
Saturday & Sunday 10th & 11th August
English Civil War Society ,
The Marquis of Winchester's Regiment returns and re enacts siege of Great Chalfield in 1645

ENGLISH CIVIL WAR RE-ENACTMENT EVENT

from 10.30am to 5pm, 4.30pm on Sunday

Admission £5 for Adults, 16 years and under go free.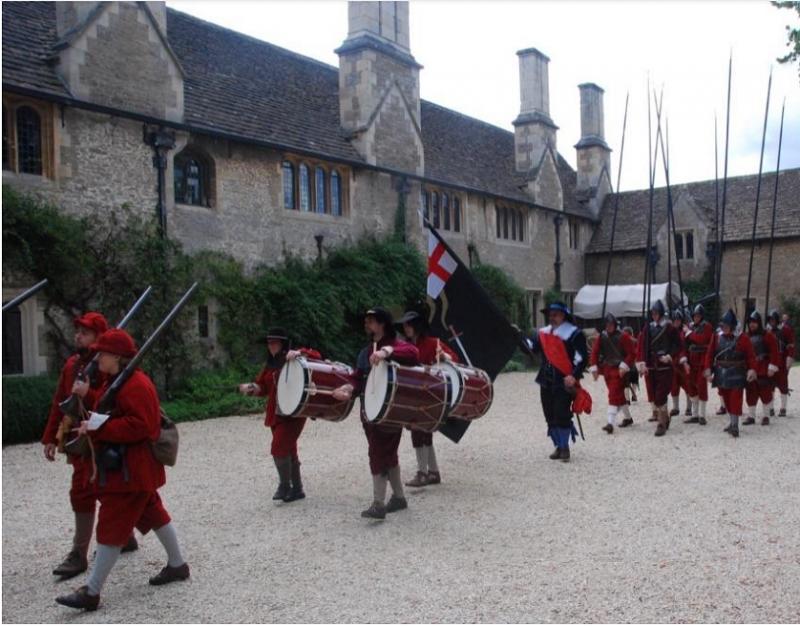 The Marquess of Winchester's Regiment of the English Civil War Society will re-enactthe two-day Royalist occupation of the manorhouse in 1644 – 375 years ago. The Regiment and accompanying civilians will march in at the start of each day and guards will be posted to keep watch. The soldiers will drill and fire muskets and cannon during the day.
In tents in the garden civilians will show and tell you how people lived in the seventeenth century (Living History).
A clerk will be in the Great Hall to replicate the writing of the accounts of September 1644.
The Chaplain, musicians and officers will recreate activities in the parish church and around the manor. In the afternoon a Parliamentarian patrol will be driven off in a sharp skirmish. Any prisoners taken will be tried and then marched off under escort.
"It's actually bringing history to life; you can really smell gun powder, hear the noise, and for children it gives them a sense of actually being there and makes history more interesting" (visitor comment 2017).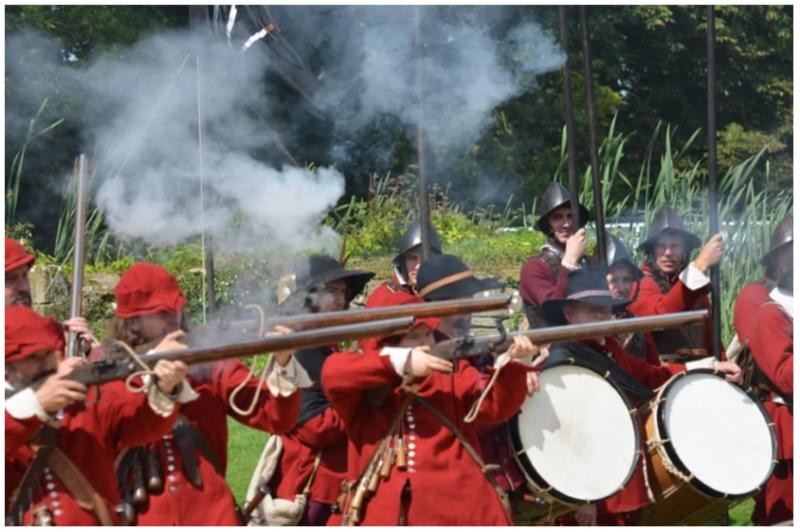 -o-0-o-